Sundepil Smooth Legs Hair Removal for Men and Women

Product Description :
Sundepil Smooth Legs removes unwanted hair and exfoliates your skin at the same time for the softest skin ever!
Sundepil Smooth Legs super fine crystals quickly and gently removes hair from legs, underarms and facial areas. With Sundepil Sundepil Smooth Legs, the hair grows back slower and finer with each use.



Sundepil Smooth LegsTM painlessly removes body hair .Each pad contains thousands of micro crystals to gently exfoliate skin while removing hair from legs, upper lip or any other sensitive areas. Fast and easy, with no chemicals, no cuts and no fuss! Leaves smooth and comfortable skin. Package includes one large and one small applicator; four large and four small replacement pads; and a travel case.

Sundepil Smooth Legs enables you to remove unwanted hair and get silky soft skin without any pain or discomfort plus exfoliating at the same time!

Its gentle buffing action removes hair from the root giving your skin an invigorating boost and bringing back a healthy natural, youthful glow to your skin.

By moving the pad in a circular motion over clean dry skin, you can gently buff away unwanted hair quickly and easily, without any mess.

Use the large Sundepil Smooth Legs on larger areas such as legs, arms, underarms, back and chest.

Use the small Sundepil Smooth Legs on delicate areas such as the chin, upper lip, bikini line, fingers and toes.

Forget painful waxing and harsh shaving – Sundepil Smooth Legs is the painfree alternative, keeping your skin hair free for up to 3 weeks – without any preparation time or clean up afterward.

The Sundepil Smooth Legs' surface is delicate enough to not damage skin, but powerful enough to banish even the toughest hair.

Unlike waxing, Sundepil Smooth Legs is pain free and there is no need for any preparation time or cleaning up afterward. You can carry it with you in your handbag or take it on holiday.

Each Sundepil Smooth Legs Pad is washable and re-useable and depending on hair thickness and usage, can last you up to 3 months.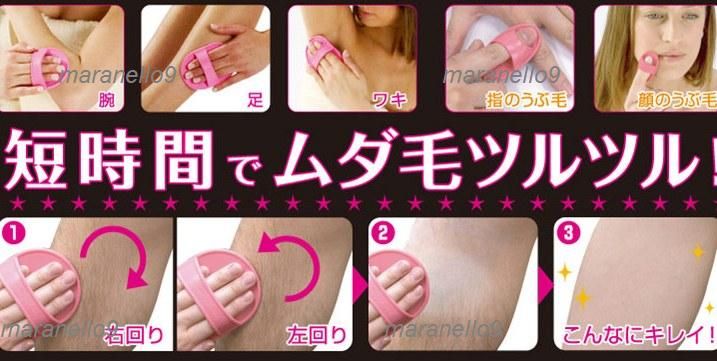 "

A GREAT ALL ROUND MULTIPURPOSE BODY HAIR REMOVER "
No harsh chemicals | No more plucking
No more shaving | Just smooth skin
The Fastest Selling, Most Popular Hair Removal Product In Europe
Works Wonders On Sensitive Areas
Video of this product is available above:
Packages contains:-
1 x Large Backing pad
1 x Small Backing pad
5 x Large Replacement pads
5 x Small Replacement pads
1 x Elegant Travel case
Comes Complete With Box Set
+ FREE SHIPPING TO ANYWHERE IN MALAYSIA